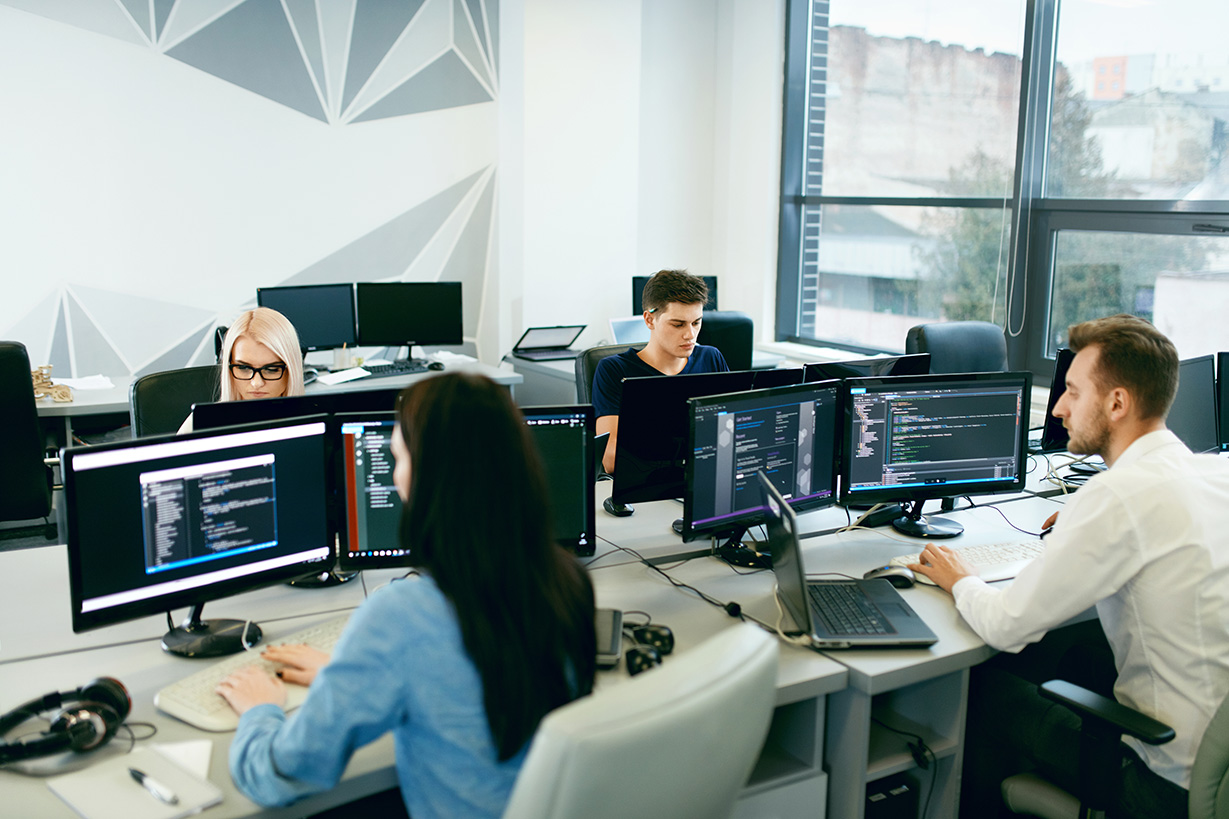 With AdvanGrid, Regent Mobile helps you gain insight into your power consumption. With this solution, your power supply network and all individual devices connected to it can be monitored. This way you always know exactly how much power each device is consuming, what the quality of the power is, and how much power you are feeding back into the grid. This helps you use power more efficiently.

How much does it cost you when the lights in the meeting room are on all day? How much power do your PCs consume if you leave them on standby overnight? What do you spend on the air conditioning of your office building on a hot afternoon? How nice would it be if you knew exactly how much power each device and each machine in your company consumes?
AdvanGrid monitors your power consumption
It's a no-brainer: knowledge is gained through taking measurements. You can measure the power consumption of your organization or location with AdvanGrid from Regent Mobile. Our solution lets you see exactly how much power your business is using. And even better: the system even monitors the power consumption of individual devices, such as the lighting system, your machines or the ventilation systems. You can then use this data to gain control over your power consumption.
When you can see the power consumption of every device in your company at any time, you can work more efficiently, improve your planning and save money.

How does AdvanGrid work?
AdvanGrid consists of two parts: the GridLink and the GridMate. The GridLink is placed at the point where the electricity enters the system, such as in the fuse box or near a generator. There, the device measures the complete electricity grid. You then install GridMates on all the appliances and machines you want to measure, such as air conditioning and lighting. This enables AdvanGrid to break down your complete power consumption: you can see how much power you are using in total, and you gain insight into the consumption per machine.
Real-time data
As mentioned, the GridMates measure the power consumption of your individual devices and machines. They do this every 100 ms. The data is then sent to the cloud, after which it can be viewed in the AdvanGrid visualization system. This means you can access the data remotely. The data in the visualization system is updated every five seconds, in other words: practically in real time.
Clear reports
The data in the AdvanGrid visualization system is clearly presented. The system offers (visual) reports tailored to your needs, with all the measurements you want. The data can also be easily downloaded and you can choose to have the readings automatically sent to your e-mail. The visualization system also features an overview of all your devices, so in case of problems you can easily find the culprit. In addition, it is possible to set up notifications about problems, such as an excess of power. These notifications can be sent to you via SMS and e-mail.
Simple and quick installation
Because AdvanGrid is a wireless solution, installation is super simple. Also, the type of fuse box or generator you use is irrelevant. A GridLink can always be installed in ten minutes, and the GridMates only take five minutes to install.
What can AdvanGrid do for you?
Having insight into power consumption is useful for every company. We would like to provide you with four examples:
Diagnostic tool
A company has had smart meters installed. All of a sudden the energy bill turns out to be more expensive than expected. How can this be? AdvanGrid can be used as an accurate diagnostic tool. The company monitors the power consumption for a month, showing exactly when peaks in consumption occur and which appliances consume the most power.
Electricity bill
The manager of a communal home wants to know what the power consumption in each apartment is. However, at the moment he can only see how much power he has to pay for in total. With one GridLink and separate GridMates installed at the apartments, it becomes possible to send customized invoices to the residents.
How green is my business?
Government agencies must be able to demonstrate how "green" they are. At the moment, however, they can only present an energy bill. With this, they still do not know if someone accidentally left the lights on all week. With AdvanGrid, the agency does gain this kind of insight.
AdvanGrid can also help you climb the CO2 performance ladder!
Are solar panels useful?
Whatever solar energy a company generates is immediately consumed. If a lot of solar power is generated at 1 p.m. and a lot is consumed at the same time, the efficiency is high. If peak consumption occurs at nine in the morning, the efficiency is lower. AdvanGrid can determine if solar panels are beneficial for your business.
Are you curious to know more about our other solutions? With our tracking systems we connect (mobile) objects, so they can be monitored, located and tracked. The systems are suitable for vehicles, (agricultural) machines and all kinds of other (movable) objects. We would be happy to tell you more about our other solutions. Please feel free to contact us.